Vol. 666 No. 999
The Ides of March is nearly here, at our front doors, staring at us through the window, ready to waltz in and spit in our eyes or pinch our earlobes. Be careful, the ides aren't something to mess around with, except for minions, who are their best friends.
The weather this month of March is hammering many of you on the east coast. To be accurate, these horrendous storms are not to be termed nor'-easters, rather, the correct term is The Lion's Roar. Buck up, the month is supposed to go out like a lamb. Stay tuned.
Lots of hot-off-the press news for you:
You're going to get an early surprise, beating out social media: click here and to see the absolutely amazing video for THE SIXTH DAY. https://cbs.app.box.com/s/oq6jdt2hq5iuze8pxbrfhs9tm63nkr2h
The first time I saw it, I asked the person who created it to marry me -- I was so blown away. Watch it once, (or twelve times, I did) and let me know what you think. Email me at Readmoi@gmail.com or come to my Facebook page and view it with all the late-comers, who will be, by definition, jealous.
More Lovely Treats:
l) Click on either of these links to pre-order a SIGNED copy of THE SIXTH DAY (signed by both J.T. Ellison and moi):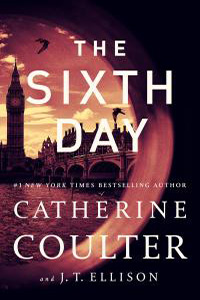 2) Wow, this one is really fun: click on this link to read a nice loooong teaser for THE SIXTH DAY. Do let me know what you think – have you already started gnawing on your thumbnail? Are you ready to wear a sandwich board with THE SIXTH DAY on the front and back? Take a gander at the incredible cover below. Make your toes quiver (and watch the video one more time).
3)And now for the final lovely treat: Mark on your calendar: March 15 – 29th, enter the drawing to win a copy of ENIGMA trade paperback at Goodreads. If you're not familiar with Goodreads, check it out, it's a first-rate site for readers. https://www.goodreads.com/giveaway/show/272052-enigma
So, if the March lion has you house-bound, look at all the fun you can have with the lovely treats above. Speaking of lions (very substantial little lions) here are Peyton and Eli looking soulful, a lie, but who cares? They're selling, I'm buying.
Catherine
| | |
| --- | --- |
| | |
| Don't you think a nice slab of salmon would suit me fine? --Eli | Look into my eyes... Tuna, tuna.... --Peyton |