Vol. 777 No. 003
DID YOU KNOW???? No, no, don't guess, let me tell you right this minute: THE SIXTH DAY, the 5th Nicholas Drummond/Mike Caine BRIT in the FBI thriller, is out RIGHT NOW, waiting to leap into your arms at a book store or downloaded on your iPad or audio-device or your cell phone –- and that brings up a question: If you're reading an exciting thriller (e.g. THE SIXTH DAY) on your cell and someone calls you? What happens? What does the phone do? What do you do? Do you somehow answer and say – "I'm busy, I'm reading a great book, leave me alone, I'll call you back –- sometime?"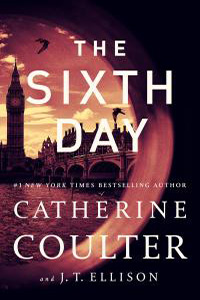 So, do imbibe THE SIXTH DAY (with an English ale since it's set in London) on the delivery system of your choice and be sure to email me at ReadMoi@gmail.com and tell me what you think of this knock-your-socks-off, hair-raising, toe-curling, nail-biting rocketride of your week? Month? Hey, maybe even the decade?
I've started writing the 23rd FBI thriller with Savich and Sherlock. Special Agent Griffin Hammersmith (Bombshell) will make his appearance again, teaming up with a newcomer, Corey DeSilva.
Question: For FBI #23, which of these two possible titles do you prefer? LABYRINTH or ANATHEMA? Or neither? If you aren't already a part of the daily check-ins, it's time -- come to Facebook.com/catherinecoulterbooks with your title suggestions and stay for a great time. (I post every morning and comment on your comments.) Remember, for a title suggestion, use one word, like Insidious or Enigma – you get the idea. Oh boy, I can't wait to hear what you guys come up with. (If I use your title, you get a free book of your choice. Ahem, it has to be one of mine.) This future rocketride will be out in July of 2019 – can you begin to imagine a year so far off in the future as to be in a galaxy far far away?
All of you, when you're done reading THE SIXTH DAY and sent me an email saying how much you LOVED it, then get outside and enjoy this beautiful April – it's here only once this year, so don't let it slip away.
Catherine Coulter
| | |
| --- | --- |
| | |
| Call me the Easter bunny. Or not. | I got my eyes on you. When's dinner? |