Vol. 598 No. 303
Happy Halloween:
October is a grand month. Air is crisp (some of you even already have snow, yipes!), leaves so vivid you just stand and stare, and to top it all off there's Halloween. Since it's such a bizarre year, I expect all of you to go all-out with decorations, spinning crazy and fun scenes with pumpkins, bats, candles and witches. For inspiration, take a look at the three Moron Pumpkin Heads in front of Morticia and Gomez. For my Halloween bubble party, I have twelve pounds of assorted candies, both fattening for those I don't particularly like, and sugar free for good friends.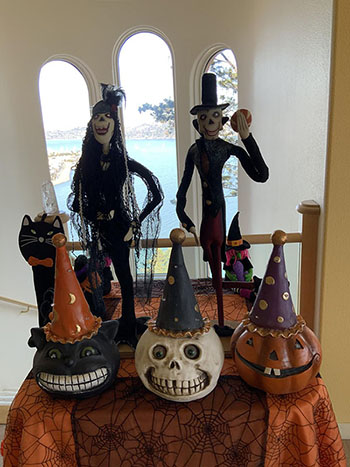 The three moron pumpkins with Morticia and Gomez
Announcement: Oh my, this is really cool: On October 26th a boxed set of the first four Grayson Sherbrooke Otherworldly Adventures novellas is available everywhere for pre-order in ebook only. Plus, it's a pandemic special – you get all four novellas for $9.95. Check out the incredible prototype cover. I'll announce the pub date in the November newsletter.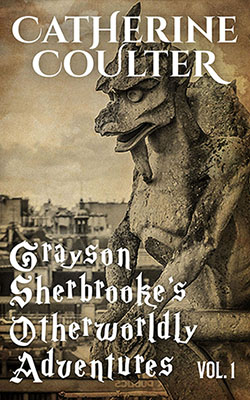 Grayson Sherbrooke's Otherworldly Adventures
FOOTBALL: Six weeks of pro-football, lots of rescheduling games due to positive tests, and this means – oh yeah – lots of make-up games throughout the week. Alas, lots of injuries too since no training camp or pre-season. As you can imagine no player wants to be the one to screw up a team schedule so everyone is being very careful.
If you want to enter my contest for best Halloween decorations you need to post your photo on Facebook.com/catherinecoulterbooks by Saturday, Oct. 24th, the cut-off date. Do you wonder what the winner wins? Take one guess (and it's not fattening).
Go forth and do some fall leaf wallowing and if it's already snowing, move.
Catherine