Vol. YES No. OUI
What a glorious month. The weather here is perfect, which means, alas, we really need a good soaking, so please perform your most graceful rain dance, chanting to your district weather minions to fountain say a million or so gallons of rain into No. Cal. Needless to say one does prefer hiking under the sunshine wearing only a sweater vest (jeans too, of course, and sneakers) rather than eating and drinking too much and staring out the window at the crappy weather. But as everyone knows everything will be all right in the end and if it's not all right, it's not the end.
If you're concerned about the supply chain and stuff floating around on barges in the ocean, do I have a good idea for you: Just so you're not caught with your pants down, all you have to do is order up books (especially mine, so many to choose from) to please everyone on your list, well, maybe not the two-year-olds. And all you'll need are gift bags and candy kisses. I'm known for my great ideas.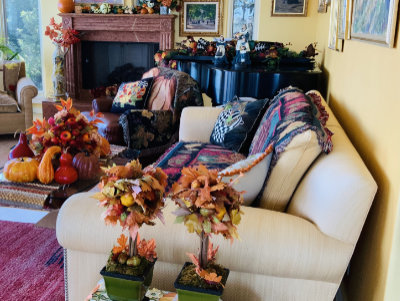 My Thanksgiving Livingroom
Ham and turkey here for Thanksgiving plus all the scrumptious non-caloric (only for today, mind you) multitudinous sides, including those obscene sweet potatoes stewed with brown sugar with all the little marshmallows slightly burned on top, all of it leading to exhaustion that only FOOTBALL games can cure. Oh, sorry, forgot the cheesecake sampler and a pumpkin pie. Is that my thighs I hear pulsing? Nah, but I am feeling a little sleepy. Obviously I need a football game or three.
Before you dive into those sweet potatoes, go around the table and say what you're most thankful for. (Out loud is a must.) If this isn't already a tradition, start it this year. So, can you hear me saying this? I'm grateful to all of you.
Happy Thanksgiving, everyone,
Catherine Coulter
| | |
| --- | --- |
| | |
| Eli: I need a football game | The gorgeous Golden Gate Bridge |