Vol. 50 No. 007
Let me get the shameless advertising out of the way so by the time you've read the newsletter, it'll be embedded in your brain and you won't even realize you've had the sneaky implant. VORTEX -- incredible cover shown below -- is the 25th FBI thriller out August 10th. There, painless, done, be sure to pre-order because that makes the publisher very happy and, well, it makes me sing a bit of opera (not from Aida).
Book Cover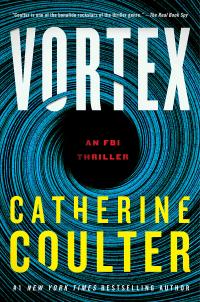 Now, onward to the fun stuff. I was off the planet for a couple of weeks this month -- I know, it was a first, and I gotta say, talk about gaining a new perspective on just about everything (except Mexican food), that adventure did it, as advertised. No phones, no iPad, no TV, no speaking to anyone unless it was a matter of procuring toilet paper or a bottle of Coors Lite. Have any of you ever left the world at the bus stop and taken yourself in an entirely different direction, experienced an unbiased world with no one trying to sell you their particular brand of snake oil? All in all, an unusual two weeks, and although life is messy, it's good to be back wallowing in the clutter.
What is thrilling now is that if you're vaccinated, your bubble has really expanded, there's hugging and kissing and sharing your nachos with your other-in-law. What's more, when you're outside, there's no need to wear a mask -- yea! -- I hadn't realized there are ZERO chance of getting Covid when you're outside walking or skipping or dancing in the park with your husband or lover or favorite critter. So you can leave the mask in the car. You're not vaccinated yet? Just do it, and join the world in the celebration.
Everyone, are you making plans for summer travel? I'm getting excited for the OBX in June, first airplane ride since visiting NYC back in the dark ages. Come visit me on Facebook and tell me your travel plans.
Go forth and listen to my distant voice singing Figaro. Goodness, by the way, I do love fig pudding.
Happy May!
Catherine Coulter