Vol. Warriors No. Sigh
Happy May: Lots of fun things this month: Cinco de Mayo, Mother's Day, Armed Forces Day, Memorial Day - lots of celebrations and gratefulness and maybe even some margaritas or Diet Snapple with a shot of Grey Goose.
Who wants to go to Death Valley and cavort with cacti and play your guitar under a Joshua trees (named after Joshua who was non-musical) while drinking a margarita or a Diet Snapple with say three shots of Grey Geese (to ward of the thousand-degree temps and help heal all the cuts from the Cholla cactus)? Early on folk looked at the Joshua trees with their gnarly arms going every which way and thought they were people and that's because they (the pioneers not Joshua) were so thirsty and hot it was very likely a mirage. I ask because a certifiable friend of mine just returned from DV and wouldn't shut up about the greatness of this hell-hole and I could only stare and say what? Cacti? Mounds of sand? Rocks in your sneakers? Snakes crawling in your sleeping bag all amorous because of your body heat? But hey, if you're a masochist, loving friends might assure you DV would be an excellent way to really punish yourself, and anyone deluded enough to go with you, BUT, then again, if you're a Grey Goose enthusiast, it might be the ideal place to become an alcoholic in a week. (There are tales of old miners crawling out of the hills buck naked, carrying their clothes over their heads, and claiming they crossed dozens of raging rivers – yep, desert bonkers.) What's really weird is my friend can't wait to go back once she's dried out.
On the home-front: FLASHPOINT (27th FBI) edit is marching smartly forward, takes time but the fun never ends — cut-and-pasting, deleting, massaging, killing off a stray character or two — and the list goes on.
Spring skiing — we've got a gazillion inches of snow in the Sierras which means when it melts our rivers and reservoirs will be singing hallelujahs.
Get out your flip flops and shorts and starting making summer plans. Memorial Day is the kick-off.
Catherine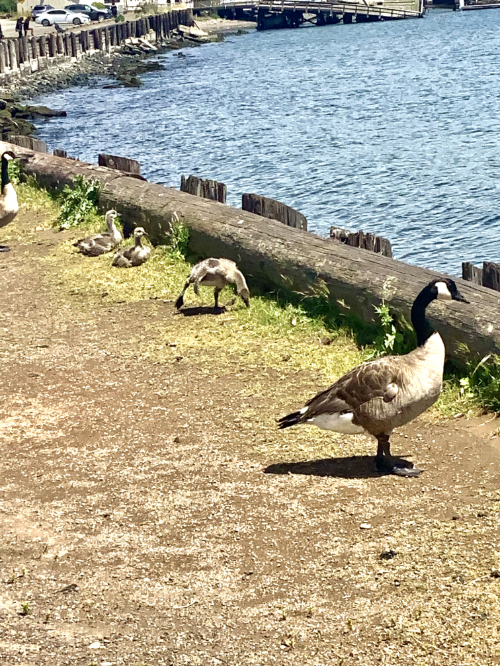 Non-Grey Canadian Geese and goslings beside San Francisco Bay.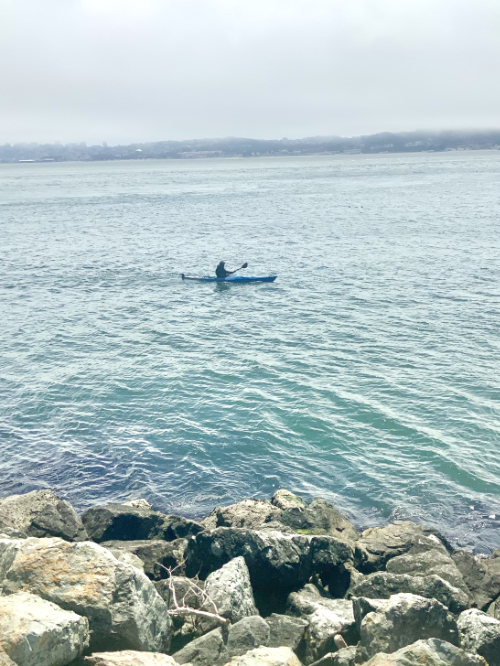 No desert around here.....