Vol. 53, No 58
It's Outer Banks time with 40 plus members of both sides of the family -- first time traveling (and in an airplane!) for what, two years? It seems like longer since we had to cancel out last summer.
Everyone coming has been vaccinated, which was our only requirement, but masks of course when out shopping. I'm praying all the smaller stores I love and visit every year have survived, particularly Tulio's, the best bakery on the east coast, period. Talk about incredible caloric sin, and no one cares. Oh yes, I order at least 12 birthday cakes. Have I looked online to make sure Tulio's still in business? Honesty, I'm afraid to.
Now, let's talk about the BIG stuff -- the amount of food consumed by 40 plus people. Ursula, the bread maker, delivered 75 loaves the last visit. 75 -- that's lots of lovely homemade carbs, plus Ursula hand delivers to each house. The top of each loaf is VERY crunchy and I always slice off the very top, toast it and load on the peanut butter, and head outside to the deck and bask, watching the ocean.
Each family cooks one night – and believe me, you'd expect a battalion to march in because there's SO much. And the kids are running around, yelling, grabbing onto your leg to get you to bring down the candy or potato chips or that single hot dog that's just sitting there.
We have a swimming pool, a volleyball court, plus we're right on the beach. Is this heaven or what? Everyone's playing, the kids are screaming in the swimming pool, trying to drown any adult stupid enough to jump in, and the adults are playing volleyball for maybe 5 minutes before it's too hot and it's ocean time. Sun screen is on every surface including underneath the Frito bag.
Book Cover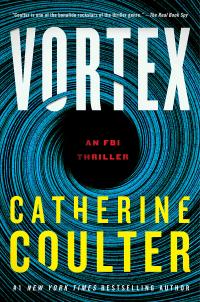 Sound like fun? You betcha --
I hope you all have a great June. It seems like everyone is out and about, wanting so much to be back to normal again.
Happy Father's Day
Happy Summer Solstice
Travel safely and have fun, Catherine Coulter
P.S. You probably don't know this, but hey, VORTEX, the 25th FBI, is out August 10th. Just look at this gorgeous cover and imagine yourself on a beach reading and drinking mai tais.