Vol. 69 No. 00
Beautiful Mid-Summer: We celebrated the 4th of July and Bastille Day but incredibly I have something that knocks those special days down with one roundhouse. Are you ready to tease your brain, ready to laugh, ready to have your heart kettledrum? Here we go with our own amazing fireworks (firewords).
DA DA - K-BOOM!
l) LABYRINTH is coming out in paperback on the 28th of this month.
Even more K-BOOM:
2) DEADLOCK, the 24th S&S thriller in the FBI series, comes out in hardcover and every other medium you can think of, maybe even luminescent seaweed. It's ready to jump into your arms also on the 28th.
A summertime double scoop.
If you haven't yet seen the DEADLOCK cover (probably impossible since I've been sticking it in your face for the past couple of months) it's below, along with a cover of LABYRINTH paperback.
 
Because you are all kind and stalwart in this surreal time, I'm also rewarding you with a final two sparklers -- a photo of Eli & Peyton as munchkins.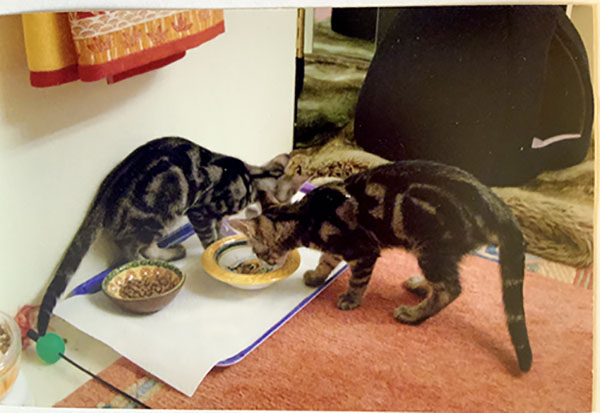 Adolescent catnip pizza. -- Peyton, Eli
VERY LAST K-BOOM:
Check out the Deadlock link and get dazzled by the incredible heart-pounding trailer and listen for the jungle drums that keep -- going. YouTube Link: https://youtu.be/6MBanzGFpxY
I hope you enjoy DEADLOCK and LABYRINTH. Be sure to tell me what you think. Email me at ReadMoi@gmail.com or meet me on my page at Facebook.com/catherinecoulterbooks. If you use Instagram and want to see my summer garden, and incredible hiking scenery in Marin Country, and Eli and Peyton being every so clever, do come by at Catherine Coulter Instagram.
Continue your active and happy summer. If you don't smile a lot the Attitude Adjustment Minions (AAM) will steal your pizza.
Catherine Coulter