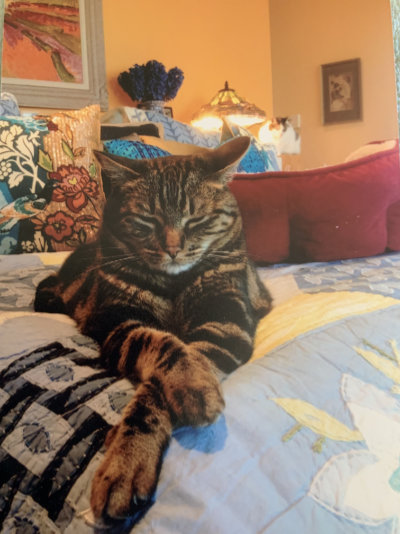 Eli pondering where to start on his memoirs.
Vol. START No. 22
Guess what? No, let me tell you -- I sent off RECKONING (26th FBI, out in August) this morning and I'm feeling positively giddy, like I always do when I send off a book. How to celebrate, that's the big question for the day. Extra tacos, that's a thought, but I can have a multitude of tacos anytime. Any suggestions would be helpful, just post on my Facebook reader page: (Facebook.com/catherinecoulterbooks). I expect wonderfully exotic and possibly wicked suggestions from you guys, okay? Amazingly, RECKONING is already up for pre-order. I'll show you the cover as soon as I have it.
A painless totally harmless piece of advertising: Grayson Sherbrooke Otherworldly Adventures -- that's the title -- all five novellas will be in either hardcover or paperback. I'll tell you the exact pub date soon. It's also up for pre-order along with a gorgeous cover -- sexy deep red with a medieval gargoyle.
NFL news: Onward to the Super Wild Card Play-Offs Saturday, Sunday, and a game on Monday night. I'm hopeful the Tampa Bay Bucs will make the Super Bowl again this year, but three key players are out, so the G.O.A.T. will have to play lights out. This should be a nail biter.
On Facebook I'll be listing my picks for each game, and you can make your own picks. We'll see if I beat you.
It's a gorgeous month, the only time it appears this year, so make January special. Do something outrageous, fun, and possibly wicked, and don't ever forget to give lots of love to your family and friends and critters.
Catherine Coulter