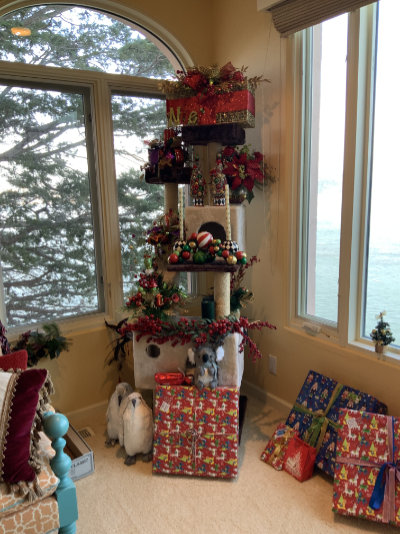 Eli's cat tree: We made a deal -- Frozen salmon flakes to keep the paws off. For now.
Vol. W33 No. Q11
Merry Christmas and Happy Hanukkah:
Like me, I know none of you can believe the holidays are right around the corner and will jump out and bite us in but another moment of time.
I hope all of you have your wrapping done, boxes mailed, all edible gift baskets sent, buckets of popcorn (three flavors) delivered here and yon. Guess what? Most of my house was decorated by the end of November including outdoor lights. It seems like yesterday we were stuffing ourselves with turkey and all the trimmings and sprawled on the sofa watching football in a stupor.
Many of you post photos of your own presents and baking and decorations on my Facebook reader page. Thank you, it's always great to see the wonderful variety of creativity. Gotta say even a few of you go a bit overboard, just like I do.
For the second Christmas, we stay here in Sausalito. Parties and dinners with friends, but alas, no family to hug or smack, depending, true in all families I imagine.
For our Christmas we'll make pasties. If any of you have been to Cornwall, that's where pasties originate, what the tin miners' (not minors, but they could have been young) ate for lunch. You can eat the original real deal. I must be truthful here about the real deal. I ate one in Penzance (as in the Pirates of) and it was pretty ghastly. The crust tasted like cardboard and there were turnips inside. I mean turnips? Is this some sort of rank punishment? I'm told some Cornish pasties even have hominy in them. If you've never eaten hominy, if you've never even heard the word, or been forced to look at it, then you're better off, believe me. Pasties have been the traditional Christmas meal in my family for three generations and yes, you guessed it, we've changed the recipe. Buy pie crust, lay down a layer of potatoes sliced thin, a layer of tenderized round steak, then a layer of cut up celery and onions and finally another layer of potatoes. The only seasoning -- each layer, salt and pepper. Pie crust lid on, bake at 325 for an hour and a half. After 30 or so minutes cover the fluted crust so it doesn't burn. Then, a big slice, steam blowing out of the top and KETCHUP. Next step -- chow down. Then fall over and wallow in a post-pasty haze, then it's on to dessert. That's different every year, but....is that apple pie I hear calling my name?
When do you open presents? The night of the 24th or Christmas morning? We're both -- spread it out as long as possible.
Don't you just love watching people open their presents? Warms the cockles, that's for sure.
Have a Happy Happy Christmas --
Catherine
| | |
| --- | --- |
| | |
| Don't you love the explosion on top? | When are you loading up my stocking, Motherfood? -- Eli |