Vol. 443 No. 2
All of you know the day before Thanksgiving is the busiest travel day of the entire year and so given I was flying out-of-state, there was little hope in this heart. I was thinking cancellations, nightmare security lines, delays, maybe even a pilot strike. A miracle, both coming and going: fast, easy, smooth, on-time flights. What happened? What universe did I step into? Even airport Starbucks coffee was excellent, the only thing what wasn't perfect was the not-warm croissants. And that always makes me wonder: how do they get the croissants to look so perfect? (Are the kiosk chefs all graduates of a French cordon bleu croissant academy?)
Thanksgiving feast: Great fowl(smoked) and dressing (sausage), mashed potatoes and green bean casserole, gravy made with bone stock – never had that before -- and an endless line of no-cal desserts (in my dreams). My favorite pumpkin pie with Cool Whip (low fat, of course, and isn't that funny?). And, an afternoon stupor in front of the TV watching football. Even the animals were sprawled on every available lap and zonked out. A wonderful day. I imagine your day was much the same as mine, right?
Home to launch Christmas in all its glory, and it simply doesn't get better than decorating, getting the 300-plus presents ready to mail off (no, I'm not crazy, like Sheldon, my mother had me tested), a half-dozen amaryllis bulbs to water and sing pretty tunes to, the occasional leaf stroke, getting all in-door Christmas lights on – oh my – and don't forget I fully intend to finish LABYRINTH (the 23rd FBI thriller) this month. Yes, you heard me right, I was tested, I'm perfectly sane or a very close facsimile, plus finishing the book is doable if my brain doesn't implode, which hasn't happened before, but you never know. But Labyrinth editing doesn't begin until the amazing year of 2019 arrives, after the expected and traditional self—trashing on New Year's Eve. So, lots to look forward to in the next month, plus.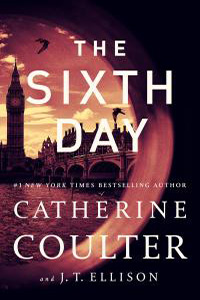 A LOVELY ANNOUNCEMENT: The Devil's Triangle, the 4th BRIT in the FBI thriller, is being BOOKBUBBED for $2.99 (per copy) starting the 29th. I don't know how long this incredible deal will last, but when you buy a friend/kid/lover an e-reader for Christmas, you can have it loaded with this wild and woolly thriller that WOW – begins with Kitsune in a hairy roof-top chase in Venice (not Venice in So. Cal., but the actually town in Italy).
If you're scratching your head about what to get that amazing friend/other half/lover/co-worker, let me make the perfect suggestion: a book worthy of their great taste and stratospheric I.Q. – drum roll -- THE SIXTH DAY, the 5th BRIT in the FBI thriller -- a great stocking present. A big plus -- It's in trade paperback which means it's easier to read and bigger, plus the cover is a knockout, as you see.
Happy Pre-Christmas. If you haven't written your letter to Santa yet, I suggest you write it right this minute – and pre-date it.
Catherine
| | |
| --- | --- |
| | |
| Peyton: This is my post-Thanksgiving stomach | Eli: Peyton can't compete. This is a real post-Thanksgiving stomach! |