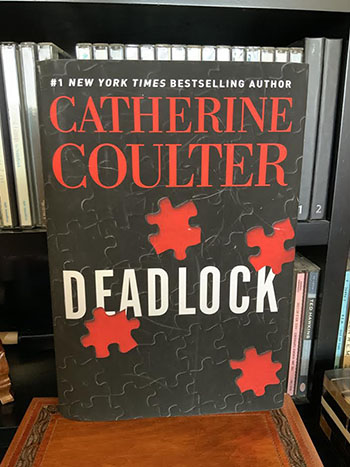 What would you do if a Medium said your dead grandfather wanted to warn you? And that's just the beginning....
Vol. 56 No. 00
Hello:
Spring is busting out all over and I've decided the best thing to do is let my mind bust out as well and so, like you, I hope, I'm part of a Quarantine Book Club and a Quarantine Movie Club and a Quarantine Drinking Club.  Guess which is everyone's favorite club? There's always an argument among the Pepsi vs. Coke members. Me, I'm in the Diet Snapple gang. There's been a movement within the Quarantine Drinking Club (I know it's the ginger ale contingent) to have meetings three evenings a week.  You never know how the Perrier crowd will vote. There is a big positive though – the only snacks allowed are nuts. We're now known as the Drinking Nuts Club.
I'm currently writing FBI #25 -- yep, you read right -- 25 thrillers in the FBI series. The title is VORTEX -- pretty cool, I think. Exactly how the title is going to fit the two wild plots, I'm not sure yet, but somehow, it always figures itself out. One plot involves an ancient artifact from Nimrud, Iraq, that threatens mayhem with Savich right in the middle.In the other, Sherlock joins forces with a reporter to take down two powerful psychopaths, trying to keep both herself and the reporter alive.
BRIEF AND PAINLESS ADVERTISING: Go to my web site at CatherineCoulter.com and read the excerpt from DEADLOCK, the 24thFBI thriller coming out July 28th. If it doesn't grab you by the throat, it's your fault.
I want you all to continue hanging in there. Stay positive, keep active and keep in touch with your friends and family, even those you don't particularly like. If you have a family member graduating from high school or college and they're understandably bummed about virtual celebrations, remind them that they will always remember they're special -- they graduated the year of the great pandemic.
Listen to the doctors, not the politicians. Everyone's doing the best they can as we learn more and more, and what works and what doesn't. All the political crap only adds stress, anger, and confusion and does not do a bit of good.
We're all in this together.
And remember, if you practice virtual exercise you must also practice virtual eating.
Diet Snapple, anyone?
Catherine Coulter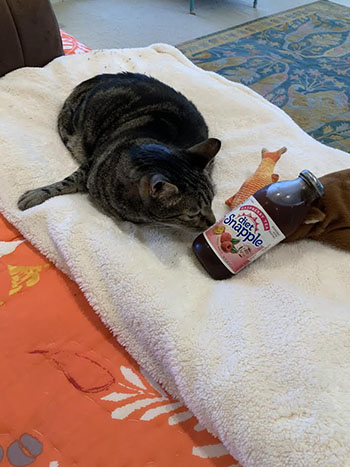 Perrier or Snapple? Not a problem, whatever Motherfood wants, I want. I'm no dummy. -- Peyton