Vol. 22 Number 2
February Newsletter, 2013
Happy Valentine's Day:  How's this for a gift: choice of show times at the theater to see Bruce Willis's new movie, It's a Good Day to Die Hard. (Am I good, or what? Yes, I know it's important to be the one to actually fork over cash for the tickets and popcorn.)
The incredibly gorgeous stunning stupendous cover for BOMBSHELL, 17th thriller in my FBI series (if you haven't been paying attention), is shown below so you can admire it to your heart's content. Consider it my Valentine's Day gift to you.  It's guaranteed to pop your eyeballs from 50 feet. BOMBSHELL now has a publication date -- July 9.  I don't think they'll run out of copies to sell,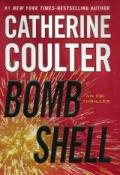 but just to make sure, you might want to consider pre-ordering it. Now.
I had a dream that Colin Kaepernick would win the next 4 Super Bowls. Do you think this is a portent? Or maybe a wishful-thinking sort of dream? Are you with me on this? I refuse to whine because the 49ers lost to the Ravens, but could you believe Kaepernick's last pass to the end zone? I mean, the Raven's guy had the receiver practically on the ground, choking the life out of him, and NO CALL. No, no, no more comments about that knuckle-headed no call, no more show of sour grapes, I'm stoic, not a whiner --  All right, it was a good game (well, at least the second half, except for the NO CALL). Do you know the Super Bowl was the 10th NFL game Kaepernick ever played? He's awesome -- this upcoming season should be phenomenal and our Harbaugh will come out on top.  Take that to the bank.